Can You Break a Real Estate Contract?
September 9, 2015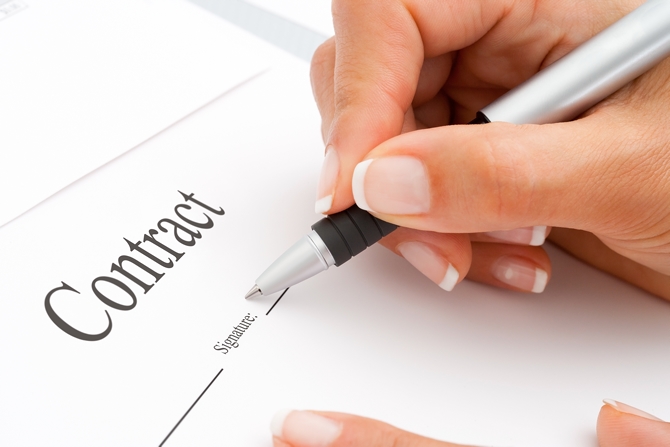 Sometimes we hear the question, "Can I get out of this contract"?
Most likely this will be the buyer as they are the ones forking out the $$.
Whenever you go down the path of buying a property or selling a property and you enter into a real estate contract, you are committing yourself to a legally binding contract.  Which means once it is signed by both the seller and buyer, both parties commitment to the other party begins.
In real life, unexpected things do happen, and the property you were happy to purchase and the contract you signed in the beginning, may now be a burden that you want to get out of, for whatever reason.  The answer is YES, you can break a real estate contract, you just need to deal with the consequences if you go down that path.

BUYERS REMORSE is a common phenomenon and is often associated with a purchase of any expensive item, fear of making the wrong choice, fear of taking on a mortgage, and as agents we understand this, and we help you work through it quickly if it occurs.
We notice that buyers remorse comes about usually after one of these two things:
1. Discussions with family or friends.
While they usually mean well, they tend to question your choice of property, what you paid for it or they pass on negativity in the current market, believing themselves that what you are doing is not the best thing for you. But do they know the area you are buying in and have they fully researched the current market or are they just relaying their own fear onto you?
2. Continuing to look at properties.
Once you commit to a contract, stop looking. It only adds confusion and makes you doubt your decision.

COOLING OFF There is a 5 day Cooling Off period on residential contracts in QLD. Which means if you change your mind for whatever reason you can terminate the contract. It will cost you a termination penalty though, which is 0.25% of the purchase price – so if your contract price was for $300,000, then the penalty you would pay would be $750.00. (Please note that if you purchase a property at auction there is no cooling off period and you buy it as is)

LEGITIMATE REASONS the contract should be halted with no penalties and the deposit refunded to the buyer. As the buyer, your contract will most likely have some of the below conditions on it, and if these cannot be met, you can break the contract, by providing written proof to the other party and putting your request to terminate in writing from your solicitor/conveyancer prior to the specified date on the contract.
your financier declines finance to you, or the bank don't value the property up to the contract price.
the pest inspector finds termites and damage that would add considerable cost to repair and treat.
the building inspector finds major problems that would add considerable cost to repair.
the qualified soil tester shows the soil would require extra foundation work/costs by the buyer in order to build on the property.
a title search shows undisclosed easements
Other examples:
There could be a covenant over the property that wasn't bought to the buyers attention beforehand. Or an undisclosed neighbourhood dispute order (Dividing Fence and Trees Act) wasn't given to the buyer beforehand, or the sellers warranty regarding the body corporate wasn't disclosed beforehand. To find out more for your individual situation you should consult your conveyancer/solicitor for advice.
If you find yourself in a situation where you need to break the contract for any reason not listed in the contract, you will need to decide if it is worth ending the contract. Or if you purchased a property at Auction, you should consult your solicitor/conveyancer if this is the case. You will lose money, and you may also put yourself in the situation of being sued by the seller for  damages or breach of contract.
HOW ANDERSONS REAL ESTATE HELP
While it is perfectly normal to get the jitters once you have signed a contract and make that commitment, we will be keeping you informed throughout the whole process and it is important to ask us any questions or concerns you may have along the way.
We highly recommend buyers attend building and pest inspections if possible at the time, as it is often beneficial in understanding exactly what the inspector is referring to as opposed to reading his lengthy report. Being shown something is better than reading about it and gives you the opportunity see for yourself and ask any questions.
If you uncover any serious repair issues, and you still want to buy, the seller may be prepared to negotiate the price down to allow for you to do the repairs yourself.
If your finance is declined, you may just need to look in a lower price bracket. We understand this can be disappointing but we will be doing our very best to find another suitable property.