Zoning Out in the Garage
April 17, 2015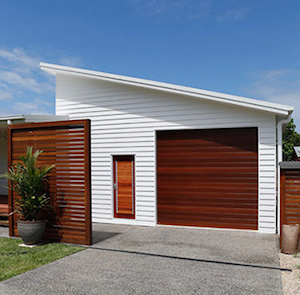 Very few garages ever contain just the one car or two cars. Many times when we go to list a place for sale, the cars are outside and the garage is full of unorganised chaos. If this sounds like your place then read on.
The best thing to do is create zones within your garage which can provide you with not only more space, but gives you room to drive the cars in and out with ease.
Pickup and Drop off Zone This is usually at the door which connects the garage to the house, where everyones shoes, hats, kids bikes, skateboards, dog and cat food bowls, etc collect and get tripped over.  This space needs to be empty, nothing there except the mat, you've heard about feng shui haven't you?
No Go Zone is where all the car doors open out and come close to hitting the wall and damaging the car.  Here's a Tip – those white styrene lids from those seafood places, collect a couple, cut them up neatly into narrow strips and glue them to the garage wall – you can even paint them out the same colour as the wall so they don't look tacky.
Head Zone is where the shelving starts at head height.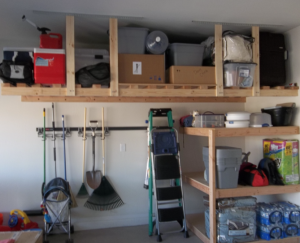 High enough not to hit your head and not too wide. Wide enough for those plastic storage containers is ideal. This shelving can go all around the garage if need be, it creates heaps of space, leaving the floor area free with room to open car doors freely. You may have to adjust the position if you have a higher 4 wheel drive.
Just hanging Zone is underneath that head height shelving, where you can hang just about anything on hooks.
Rooftop Zone is the area above your car, if you are lucky enough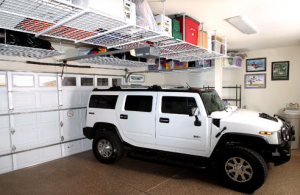 to have a high garage ceiling here then you can really hide some serious stuff here. This storage area is usually made out of a timber frame hanging down which has a ply base.
Only have a Carport ? Keeping this tidy and neat is a task. You may have one solid wall where you can close it off to make it into a cupboard. The best storage here if you have the height, is the Rooftop zone, a timber frame that hangs down with a ply base.

Another Tip: I once seen a piece of fishing line with a small metal washer tied to the end of it hanging from the roof of a garage precisely positioned so when the driver drove in, as soon as the washer hit the windscreen he knew he had driven in to the best spot to maximise the room around the car. Or use a tennis ball. Clever!
REMEMBER : When presenting your home for sale the less clutter the better, each room needs to be make the buyer feel like it is spacious, so start by having a GARAGE SALE and get rid of the items you no longer need.
For more helpful information on preparing your home for sale check out our top tips