Shipping Container Homes
May 3, 2015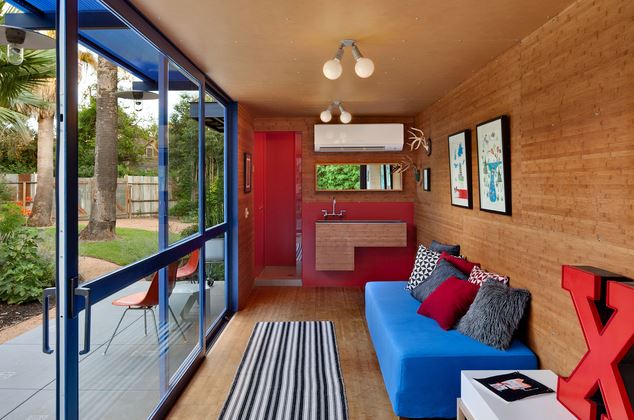 A container home is just one example of the trend towards innovation to meet our changing housing needs.
Investigating such options and their environmental, financial and operational benefits and drawbacks when looking to build a new home could help you on your way to creating your dream home!  Supplied by Adam Zuchetti – Domain.com.au
What is a container home?
As the name suggests, container homes are made from shipping containers which are refitted for use as modular homes. Owing to this modular effect, container homes can be tailored to fit the size requirements of their owners.
There is a surprisingly large number of designs, sizes and uses for container properties. Houses, granny flats, shops, hotels, offices … the list is virtually endless. Shipping Container Homes Australia has a gallery of photos, one featured here, that provide a great overview of the diversity of container homes and buildings, as well as resources on how to build a container home yourself
Why build  a container home:
Housing affordability constraints; population growth; lack of  land close to amenities; time-poor lifestyles demanding low-maintenance homes … all of these factors and more can be said to be aiding the boom in alternative housing options.
The web is full of images of luxury caravans and lodges, kitted-out tree houses and kit homes as alternative means of providing housing that is cheaper, more compact and, in many instances, more environmentally friendly than traditional brick-and-mortar housing.
Benefits of the container home:
Container homes are gaining popularity for a number of reasons.
Cost:  As previously mentioned, container homes can cost less than $30,000, rather than the hundreds of thousands or even millions for a typical suburban home.
Style:  "We can sit these $180,000 container homes … beside a multi-million dollar home. You wouldn't know the difference," Brad Lyons of Container Homes Designer Domain has previously told Domain.
Environmentally friendly/weather resistant: "Structurally strong and weatherproof, shipping/freight containers are an ideal base from which to construct a habitable space, without placing the same burden on the environment as conventional construction methods," the Cube Modular Homes website points out.
Time:  "Construction time on-site can be as little as seven days to fully weatherproofed condition," says New Zealand–based Addis Containers.
Footprint:  Having a smaller footprint means container homes are lower-maintenance, require less energy, are more flexible in where they can be built and minimize waste compared to traditional homes and construction methods.
 Who builds container homes?
There are many , but a Qld company,  Brisbane-based Gateway Containers, sell standard containers or those with only a basic fit-out, enabling DIY homemakers the opportunity to save even more money by effectively building their own home from the shell up.